Siobhan Cusumano

Administrator

in Largo, FL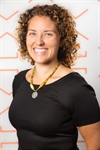 Expertise Types
Certified Notary
Being the Administrative Manager for five offices is exactly like I'm sure you're imagining. I am that person that everyone wants to know, but no one wants to be. If you want something done, you come to me - ask anyone in our office!

Lucky for our agents, I am obsessed with organization, attention to detail, and making everyone's lives a little easier. I not only handle the day to day within our offices, but also plan all our fun events and meetings! If you see a witty post on our social media, that was probably me too. There are few things that can aid a growing company the way trust and dependability can, and I take pride in being dedicated to providing both to all our agents.

When I'm not making commission disbursements or meeting agendas, you can find me talking whiskey. I am also a Whiskey Guardian for Angel's Envy and a private event planner and cocktail curator. I truly have a servant's heart.

I simply want everyone to succeed in chasing down their dreams, and enjoying life. So, whether it is an extra training on DocuSign, a quick tutorial on social media, or a killer party - rest assured - I've got you covered!